Occupancy Management Module
Occupancy Management Made Easy
Your virtual care home in one centralised system. Build a thriving care home that meets the needs of both your residents and your business. Better understand how each home is performing and develop data-driven strategies.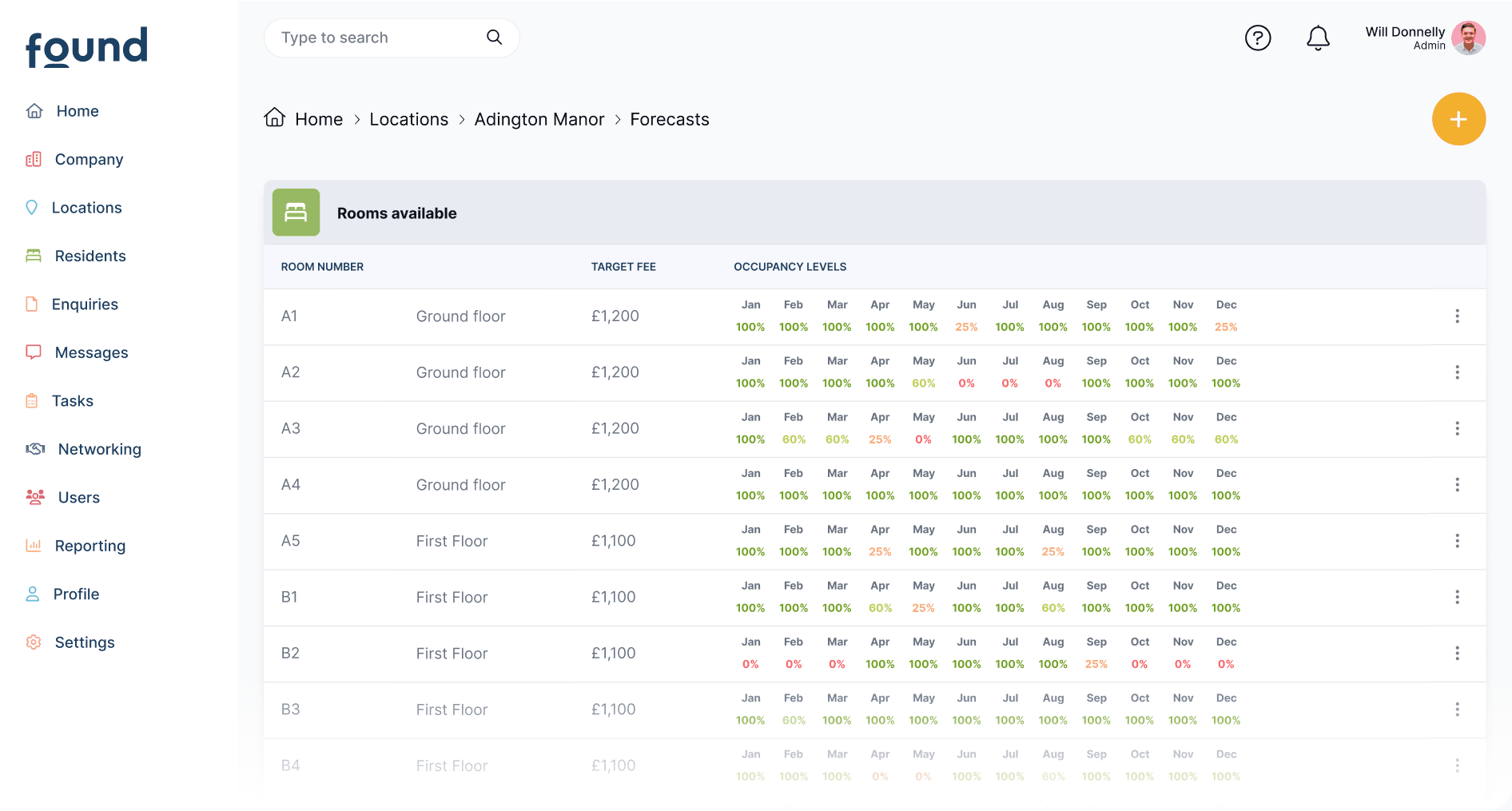 Seamless Integration
A powerful platform on its own, Found works even better when integrated seamlessly with our best friends over at Nourish and PCS. Our simple-to-set-up integrations mean you'll never have to duplicate information again, as well as having more than 100+ integrations available, customise Found to fit your care home.
Coherent Forecasting
Fast, easy, accurate. Accelerate occupancy and get much-needed clarity on your care home's future plans & growth. Through increased visibility, you can analyse your care homes as a whole with the highest degree of confidence and make assertive decisions for the future.
Manage Homes All In One Place
Gain a better understanding of how your homes are performing, make informed business decisions and develop data-driven strategies. Deep dive into the nitty gritty of each home and understand at a glance the complexities of each room, floor and home.
Build out your rooms
Bring your rooms to life and simplify the process for your sales teams to identify the ideal rooms for prospective residents. Easily access all key documents, room photos, and features, empowering your sales teams to identify and articulate the best rooms for potential residents.
Manage Move-Ins and Move-Outs
Efficiently manage residents' move-ins and move-outs, stay on top of residents moving rooms and effortlessly update room rates when prices change. Ensure that your care homes are always operating at peak performance, keeping accounts up to date with any changes all documented within the easy-to-view timeline.
Out of Home
Gain complete visibility of where every resident is. Efficiently manage your resources and ensure the safety and well-being of your residents. Knowing where each person is at all times.
Set Targets & Track Progress
Set occupancy targets for your homes to manage growth. Benchmark your performance and monitor its targets over time. Obtain valuable knowledge to enable informed decision-making. Be proactive in identifying areas for enhancement to stay ahead of the competition.
Bulk Update Target Fees and Actual Fees
Update target rates and actual fees for your homes with ease. Avoid the hassle of the time-consuming manual task of updating resident fees and ensure that all charges are accurately reflected in a timely manner.
Control Weekly Fees
Perform an in-depth analysis of your occupancy data to gain a better understanding of your care homes. Gain valuable insights into your weekly fee fluctuations and pinpoint any noteworthy patterns or issues that require attention. Make informed decisions based on accurate and relevant data.
Collaborative Notes
Boost your note-taking and highlight important details for wider visibility. Facilitate collaboration by allowing multiple stakeholders to contribute to and edit the same notes. 
Secure Resources
Eliminate paper clutter and ensure the safety of important documents with our centralised and secure document storage. Easily access documents from anywhere at any time and set reminders for upcoming renewals. Trust in the protection of your sensitive information with Found.
Digitalise Your Docs
Revolutionise your document management system by digitising your docs in no time. With automatic population based on stored data, you can save physical storage space, enhance document security and increase accessibility and collaboration to elevate your care home operations.
Comprehensive Contacts
Create a comprehensive profile of every resident and capture critical contact details, including next of kin, power of attorney, family members, medical professionals, social workers, and more. Ensuring that you have all the necessary information at your fingertips to provide exceptional care.
Never Miss a Date
Make care home management a breeze with the in-product Found calendar. Keep track of tasks, assessments, resident events, and more in one place. Simply integrate with your Outlook or Google calendar to stay on top of your schedule and never miss a deadline again.
Fee Payers
We've reduced the complexity of fee payers on Found. You can effortlessly include fee payers to residents, record their payment amounts and calculate if they have met their weekly fees, all in one simple system.