Enquiry Management Module
Streamline your care home enquiries
Our features have been thoughtfully crafted to aid your care homes in capturing and converting more enquiries. Ensure every care enquiry receives top-notch services every day, all day from the get-go.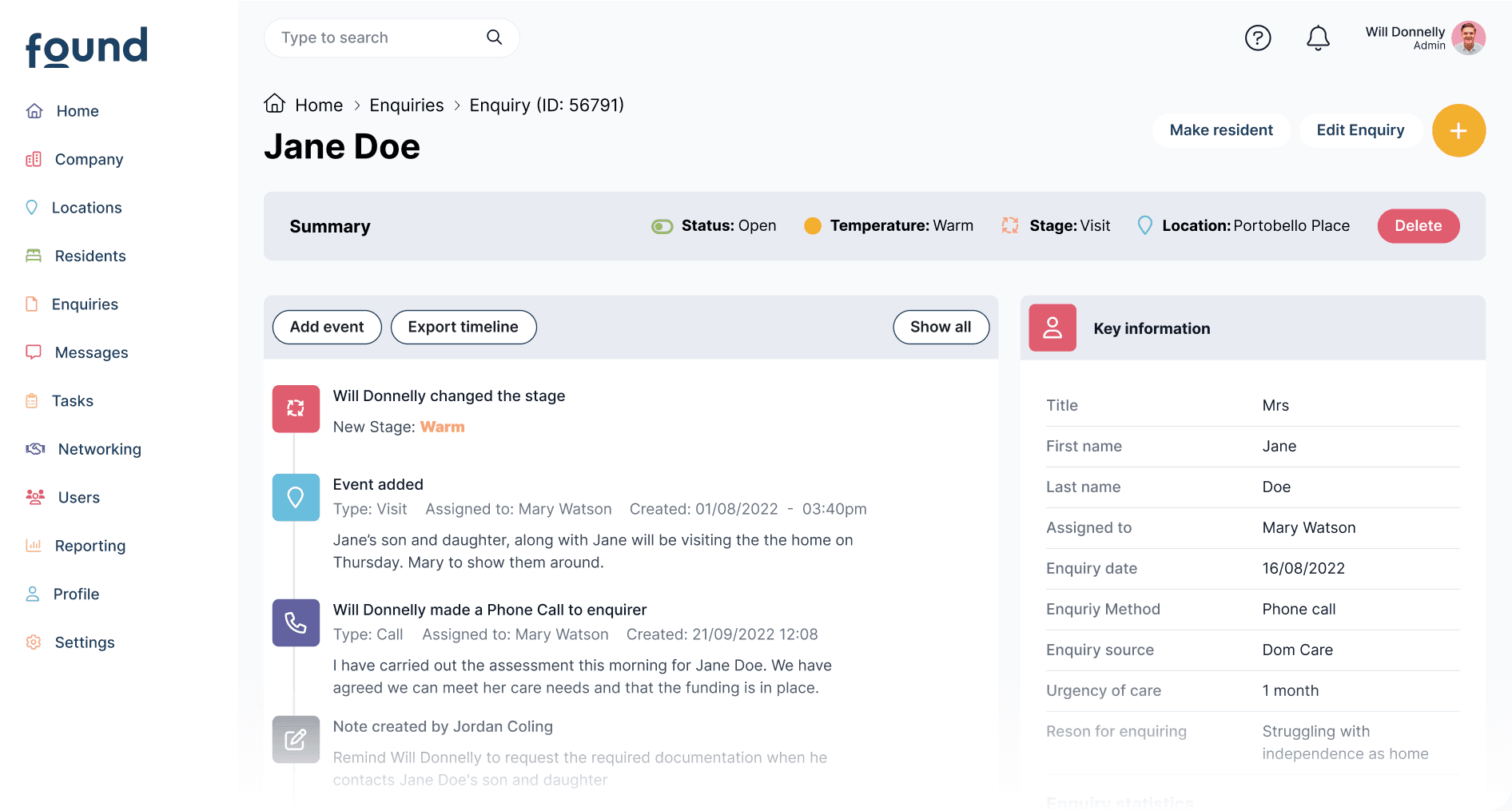 Seamless Integration
A powerful platform on its own, Found works even better when integrated seamlessly with friends. Extend the power of Found to centralise other systems, databases and information streams including leading marketplaces, your website and lead gen ads. With more than 100+ integrations available, customise Found to fit your care home.
Expectation Management
Make a lasting impression on your leads and build stronger connections from the very beginning with Found's personalised automated acknowledgement emails. Every time an enquiry comes in, trust your CRM to let your leads know you'll be back in contact. This Improves your team's response times and customer satisfaction.  
Slick Communication
Effortlessly manage all your communications within your CRM, without ever having to leave the platform. Keep in touch with your leads as you host your care home email on a secure, encrypted, and privacy-guaranteed product. Everyone with access can view and track the communication trail, ensuring transparency and accountability.
Clear Prioritisation
Transform your lead management strategy by tracking your enquiries by temperature. Prioritise your most promising leads with ease and allocate your resources effectively to drive better results. Eliminate unnecessary noise from your pipeline to ensure every lead is acted on promptly.
Holistic Organisation
Remain in control of your tasks and ensure you never miss a deadline. Intelligent in-product notifications and email reminders simplify workflows and guarantee that you stay up-to-date with your enquiry tasks. Set deadlines and effortlessly delegate important tasks. 
Collaborative Notes
Boost your note-taking and highlight important details for you and your team. Collaborate with multiple stakeholders and edit the same notes in real-time.
Comprehensive Contacts
Create a comprehensive profile of each lead and capture critical contact details, including: next of kin, power of attorney, family members, medical professionals, social workers, and more. This guarantees you have all the necessary information at your fingertips to provide exceptional care.
Secure Resources
Eliminate paper clutter and ensure the safety of important documents with our centralised and secure document storage. Easily access documents from anywhere at any time, and set reminders for upcoming renewals. Trust in the protection of your sensitive information with Found.
Digitalise Your Docs
Revolutionise your document management system by digitalizing your docs in no time. Automatic population based on stored data, you can save physical storage space, enhance document security, and increase accessibility and collaboration to elevate your care home operations.
Futureproof Contracts
Keep your modern care home moving forward and enable convenient and secure electronic transactions. Send contracts directly from your CRM and enable eSignatures, providing your care seekers with the flexibility to sign securely and electronically from anywhere.
Easy Attribution
Maximise your marketing ROI by identifying the source and method of each lead. Accurately measure the effectiveness of your campaigns and determine which channels are generating the highest quality leads. Don't leave your success to chance, start tracking your leads today and unlock the power of data-driven decision-making.
Effective Workflows
Better understand your lead's progress and behaviour with the timeline visualiser. Our easy-to-follow workflows can track your leads through every stage of their journey and consolidate all interactions, including: emails, calls, viewings, tasks, and more. Build out a richer customer journey that rewards your care home proportionately and quickly gives a top-level view of everything you need to know.
Enhanced Exports
The smart way to manage your enquiry data. Rest assured that the information you input can be effortlessly exported in CSV or .xlsx format with a single click for further analysis. Schedule recurring exports to ensure the data is readily available when you require it the most.