Care Billing Module
Manage your resident's finances anywhere, anytime
Financing care is unique to every resident. Found's innovative Finance and Billing module allows you to meet the needs of every resident and their specific financial situations with ease.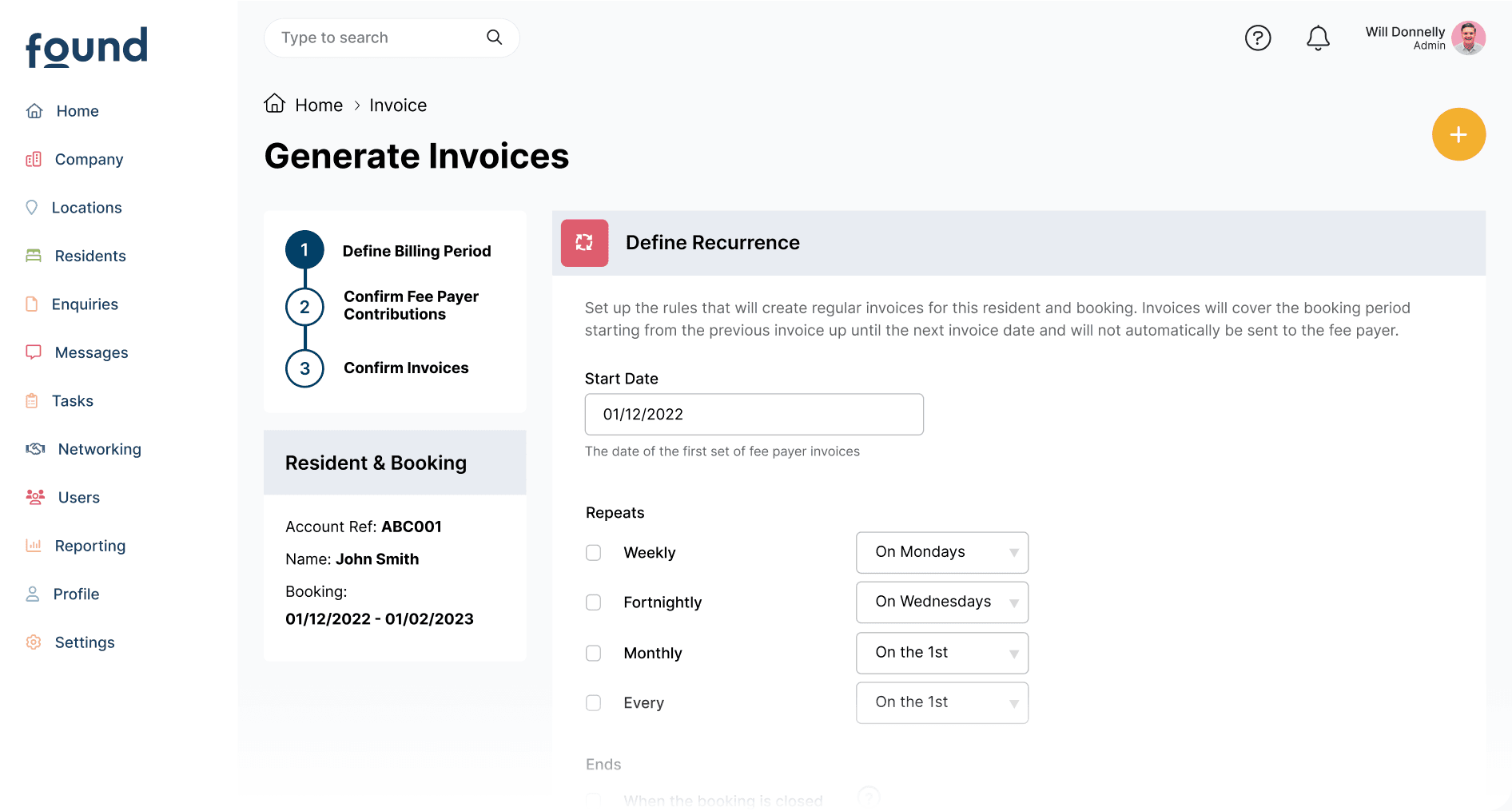 Generate Invoices
Stay organised and on track, generate and simply download, print and send invoices directly from your desktop. Have complete visibility and monitor your payments from the beginning right through to the end. Easily check if payments have been received and understand who has upcoming or overdue payments.
Custom Design Invoices
Create and send professional-looking invoices that can be customised to meet the requirements of your residents and fee payers. Add your care home's logo, footer summary and payment details, to keep your brand at the heart of your care.
Automated Invoice Cycles
Increase efficiency and save time with automated invoice functionality. Sit back and relax while you can automate the creation of invoices. Specify the recurrence in advance, define when the invoices should end and tailor the invoice cycle specific to your care home's requirements.
Multiple Fee Payers
The days of complicated fee collection processes are over. This service is designed specifically for the unique complexities of care homes, making fee collection a breeze. Take control over your resident's fee payers and the unique processes that come with it. Experience hassle-free fee collection and achieve operational efficiency.
Export Data
The smart way to manage your financial data. Easily export invoice data, billable extra data and residential data in CSV or .xlsx format with a single click. Just tap the export button and the data is yours.
Billable Extras
Effortlessly add billable extras to your residents' accounts as they take advantage of your additional services. Make sure all haircuts, taxi rides and sweet treats are accounted for and not forgotten about. Provide additional context to Fee Payers with clear visibility.
Petty Cash Management
Provide your team with real-time visibility into all the small expenses incurred at your homes. Get the peace of mind that all cash stored on behalf of residents is being properly managed.